Post by Dusk on Apr 4, 2008 12:05:34 GMT -5
Felines beleive in eight Gods and Goddesses. Each species of feline has a slightly different view on these gods, seeing a particular God or Goddess as the most powerful, or important. The following imformation is consistent with Lion views, the Blackriver Pride in particular. Rouge males and lone females that exhist on the border of Kiwara may differ slightly with the pride's view, depending what their parents taught them...
The Arch- GodAdrastos
- Lion God of the Sun, and Creation. Along with the other Gods, Adrastos created the world. According to the Felines, the Gods created Cats in their own image, and the felines see themselves as "Stewards" of the earth ; keeping game- animal populations in check, for instance.
It is said that Adrastos rises into the sky each morning, his flaming mane lighting up the dawn. The cats pay homage to Adrastos once a year, during the "Festival of the Sun", which takes place as Summer, the Dry Season and the hottest time of the year, draws to a close. The cats dance, feast, and, as the sun begins to fade, they roar a farewell to Adrani, untill morning.
Gods and GoddessesZanzibar
- Black Leopard Goddess of the Afterlife. Zanzibar guides the dead to a new, second life. When a Feline dies it's relatives pray to Zanzibar, asking for her to protect them, and help them to make a safe passage. It is said that when Adrastos descends from the sky, she prowls the earth looking for lost souls, and her black pelt cloaks the night sky...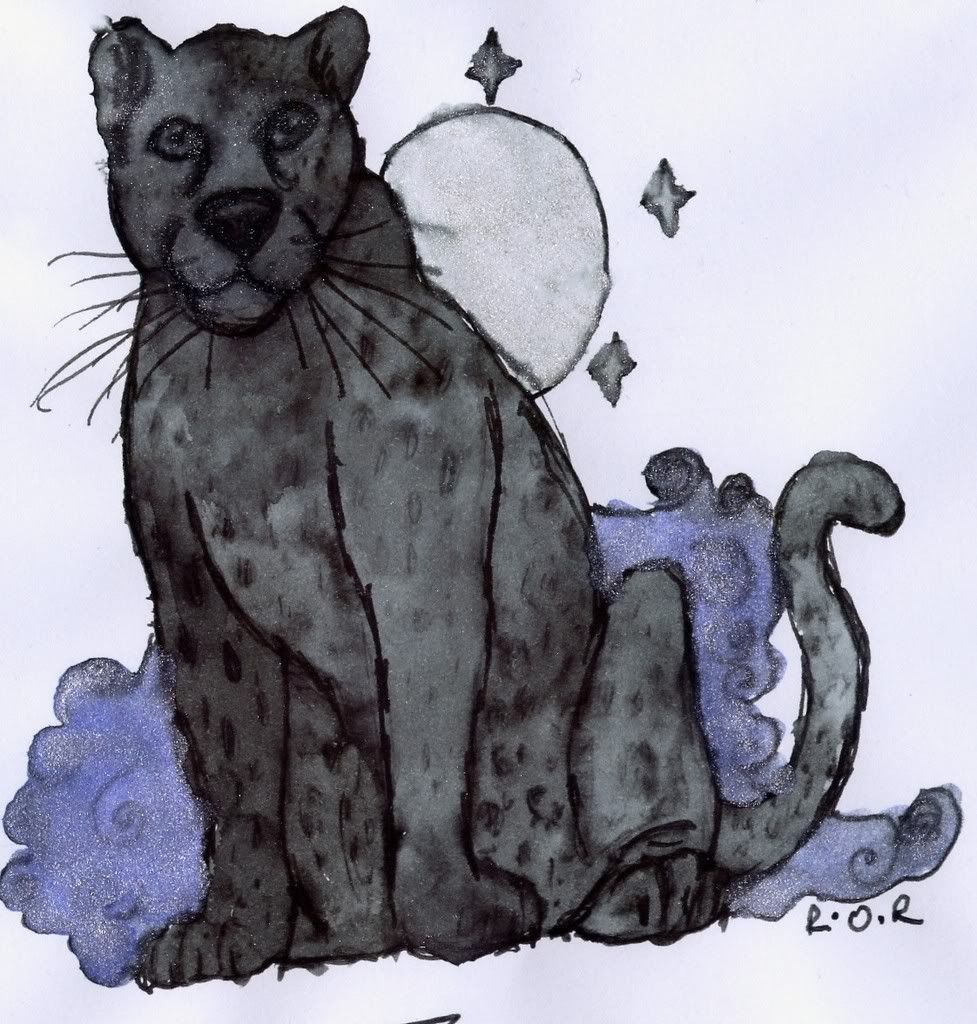 Anhanga
- Jaguar God of War and Battle. Anhanga is violent and quick- tempered, and his children, the Jaguar Tribes of the Southern Jungles appear to be of a similar disposition. Cats pray to Anhanga for strength in battle, and success in war...
Fadila
- Snow Leopard Goddess of Fertility, Birth and love. Fadila is kind and gentle, she is said to watch over cubs and kittens. Cats pray to Fadila for a safe Birth, and ask her to watch over their children, keeping them safe. There is a famous feline legend that involves an argument between Fadila and Anhanga, which led to the creation of Small Cats...
Jareb
- Tiger God of Storms and Water supplies. Jareb has a rather stormy personality to match his powers, and, if an argument is formed, often takes the side of Anhanga the aggressive Jaguar God. Floods and bad weather is looked upon as a sign from Jareb, indicating he is angry at the Cats. Cats pray to Jareb for consistent water supplies, and ask that he does not make the weather too violent...
Fahim
- Clouded Leopard God of Wisdom and Learning. It is said that Fahim taught Cats to speak and live in harmony with nature. Cats teach eachother Fahim's Wisdom. Clouded Leopards are considered the most academic of Felines, and Clouded Leopard Scholars and Philosiphers often roam the lands spreading learning and teaching others the ways of the world...
Costica
- Cougar God of Justice. Costica makes sure everything is fair and equal in the world. It is said that those who have commited injustice and crime will be tracked by Costica throughout their lives, and, once they die, are handed over to him by Zanzibar, where he hunts them through the heavens for all eternity...
Demi- Gods, or Lesser GodsAltti
- Cheetah Demi- God. Altti is the God's messenger, he races through the skies both night and day, carrying prayers in the sash tied to his back. Altti runs back and forth, from heaven to earth delivering these prayers to the gods, and sometimes at night, you may see him streak across the dark sky in the form of a shooting- star...